I have a lot of things that I want done in the house.... Tasks as little as cleaning the floor to as big as installing a vegetable garden. You better believe that Brett hasn't been left put of the fun. Just when he thinks his honey do list gets better....I add something else. My latest project was installing shelves and hooks in the laundry room to help decrease the clutter of things that accumulates on top of the washer and dryer. Pretty simple task right?.....
Brett thought he'd paint the wall first. Give the laundry room an accent wall...I'm still waiting on the shelves and hooks.
My project was to re do our throw pillows on the family room couches which are well over due to be tossed and replaced..... I figured if I do this I'll buy more time and resist the huge urge to finally replace them.
I also redid the pillows on our benches since the old fabric wasn't as childy friendly.
Hung some fall decor and added/experimented with my own craftiness with the help of pinterest... My fall tutu wreath...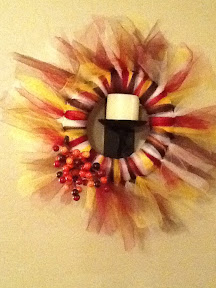 Also serves to show our ASU devil pride.......that part not intentional.
On top of all our house projects....Brett and I took on an even bigger commitment...
I hope this doesn't collect dust :) cause dusting falls really low on my honey do list!
- Posted using BlogPress from my iPad