Jeggings..... Never thought I'd say that....not gonna lie... Chuckled at the thought of leggings mAde to look like jeans.... But they are my new favorite find!!!!!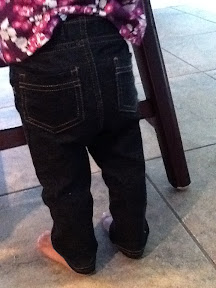 For my 21 mos old! Finding pants that fit decent on the waste and length was turning into a struggle. She didn't do well with the adjustable waste cuz we adjusted it sooo much it just left it soo bulky. I found baby jeggings at target for nearly 8 dollars.
Paired with a pair of faux suede boots that are knee highs on my munchkin..... Perfection.
- Posted using BlogPress from my iPad